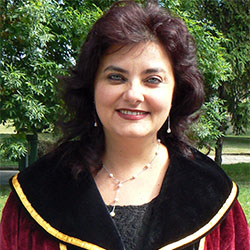 Prof. Daniela Todorova, PhD
Rector, professor, Honorary Professor of Ningbo University of Technology, China
Courses taught: "Transport Economics", "Transport System Economics", "Business Planning", "Small and Medium Enterprises Management", "Labour Economics". – more than 60 publications in the fields of: Transport Policy; Transport Economics; Investment Policy in Railway Transport; Sustainable Development of Transport; Analysis of the Cost and Benefits of Infrastructure Projects; Pricing of Transport Service; Business Planning and Investment Project Management.
Professional career:
2002 – present: Deputy Head of Department of Economics and Accountancy in Transport;
1996 – present: Lecturer at Department of Economics and Accountancy in Transport;
2017 – Honorary Professor of Ningbo University of Technology, China;
2010 – present: Secretary for Bulgaria and member of the Scientific Committee of the European Association for Security;
2012 – present: Member of Sectoral Reference Council on Competences Appraisal of "Transport" Sector at Bulgarian Industrial Association;
2013-2016: Vise-rector of Research and International Relations;
Member of teams for development and implementation of twelve research national and European projects.
Education and academic career:
MSc in Industrial Economics and Management, Moscow State Mining University, Russian Federation.
PhD in Economics, dissertation on "Improving the investment policy of railway transport for efficient development in market conditions".
Associate Professor in Transport Economics and Management.
"Economics of Transport" and "Finance and Credit" at the Institute of Economics and Finance, Moscow State University of Railway Engineering /MIIT/, Russian Federation.
Professor in the scientific specialty "Economics and Transport Management".