Dean of the Faculty of Machinery and Construction Technologies in Transport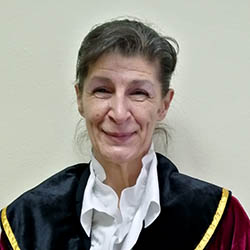 Assoc. Prof. Dr. Eng., M.Sc. biol. Miryana Miroslavova Evtimova
 Department of Transport Equipment
Courses taught: "Technical safety and ecology", "Automotive Engineering", "Repair and operation of vehicles", "Heat engineering" and others.
Supervisor of graduates and reviewer of diploma theses. Areas of research interests: interdisciplinary and transdisciplinary research; low carbon and carbon neutral economy; Sustainable Development; transport equipment; alternative fuels and propulsion.
Author and co-author of over 30 publications and reports at scientific forums. Author of several e-learning courses. Academic mentor of students in specialty "Automotive Engineering".
Member of the Council for Cooperation with the Scientific and Academic Community under the Chairman of the State Agency for Road Safety.
PROFESSIONAL DEVELOPMENT:
February 2021 – present – Dean of the Faculty of Engineering and Construction Technologies in Transport, VTU "Todor Kableshkov";
2013 – present: Assistant, Chief Assistant, Associate Professor, VTU "Todor Kableshkov",
Deputy Head of the Department of Transport Equipment;
2006 – 2009 – National Biofuels Association in Bulgaria, Chief Expert;
2003 – 2006 – NIS at TU – Sofia, Center for Perspective Research; Engineer;
1988 – 2005 – Nikola Korchev Vocational High School of Railway Transport, Sofia, Teacher of Transport Equipment, Internal Combustion Engines, Diesel Locomotives, Machine Elements, etc.
Education and academic growth:
Магистър, специалност "Железопътна техника", ВМЕИ "В.И.Ленин" (ТУ-София)
Магистър, специалност "Биолог-преподавател по биология и химия", "Св.Св. Климент Охридски".
Висше училище по транспорт и икономика, Дрезден, Германия Изпитване на дизелов двигател при работата му с различни видове биогорива и оценка на жизненият цикъл на биогоривото.
Образователна и научна степен "Доктор" по "Локомотиви, вагони и трамваи", Технически университет – София. Тема на дисертационния труд: "Възможности за използване на срънчогледовото масло като алтернативно гориво в дизеловите двигатели в България"
Доцент по научна специалност "Транспортна техника"